Posix has moved POP.CO.ZA from its own machine and put it onto the Posix Virtual Server - MAIL.VWEB.CO.ZA.
This is the same place that all other POSIX based e-mail resides. The WEBSITE services were on the same machine but have now been separated - which allows for better security.
For most people - there will be no difference - mail is delivered to mail.vweb.co.za and this is the name you should use to pick up your e-mail. If you have hard-coded an IP address (192.96.24.1) - this has changed and is the wrong way to do things.

In order to read your e-mail online (cloud style) - please go to webmail.vweb.co.za. Please use this name so that the SSL Security certificate name matches. For Normal e-mail (that you download onto a PC/Phone/Tablet) - please make sure you are using the following settings on your device.
POP3 Configuration
POP3 (Post Office Protocol v3) is the preferred method of fetching your e-mails. E-Mails are downloaded and then deleted on the server side once downloaded. This is quick and simple. The primary disadvantage of this is you can only download e-mail on to one machine only. To overcome this, the deletion process can be deferred for a few days (typically 7 to 21 days) so that the same e-mail can be downloaded onto several devices. This is now a very common practise.

To configuration this in your e-mail client, you need:-
A User Name - your full email address (no changes)
Your Password (no changes)
The machine to connect to - please ensure this is mail.vweb.co.za

Most people are probably using a POP3 connection running on Port 110. SSL/TLS (security) support is preferred and is recommended. You should instead tick the Use SSL box and connect on port 995. The e-mail server only has one SSL/TLS certificate which uses the name mail.vweb.co.za which is why you must use that name if you are using SSL/TLS.

Mail may be left on the Server if you POP3 (read your) e-mail from more than one device, e.g. Laptop, Tablet and Cell Phone, but we recommend that you keep this to a minimum of between 7 to 21 days. This setting is under Advanced or Extra settings.
Tick Leave a copy of messages on the server
Change Remove after 7 days
Tick Remove from server when deleted from "Deleted Items"
OutBound E-Mail Guidelines:
Traditionally, users will use the Mail Server of the ISP who they are connected to.
Some common examples of these are:-
Posix Capped ADSL: as per Telkom
Posix Uncapped ADSL: as per AfriHOST
Telkom: smtp.saix.net -or- smtp.saix.co.za
MWEB: mail.mtn.co.za
Cell C: smtp.cellc.co.za -or- mail.cmobile.co.za
iBurst: smtp.iburst.co.za
Vodacom: smtp.vodacom.co.za
AfriHOST: smtp.afrihost.co.za
Axxess: smtp.axxess.co.za
This single setting is placed in the "Outgoing mail server (SMTP)" box. This service runs on SMTP Port 25 and is not encrypted.

This may be fine if your PC is used in one location and thus always connected to the same network provider, otherwise you'll be changing the settings every time you move to a different Internet Connection.

There is one other issue - many e-mail systems now require an SPF (Sender Policy Framework) record in the DNS zone file of your domain. If your DNS records are hosted at Posix on https://vweb.co.za and you are missing SPF records, there is a single button [Add SPF Records] to push. This assumes you are using the SMTP servers that we provide.
The SPF record in your domain states that when someone from your domain sends out an email - they do so using a limited list of specific machines. This makes it more difficult for bad actors to send SPAM to others using your domain.

If you want to continue using your own Internet providers SMTP service, then you need to modify the SPF record to include their SMTP server name - using the same format.

You are also welcome to switch on DNSSEC for your domain - which again will improve your domains security. If you are hosting a web site with us - then remember we offer free SSL Security Certificates. Just switch it on!
SMTP Mail Submission settings
If you are always moving about, swapping Internet connections, travelling both locally and internationally or simply want better security, then you should opt to use the Mail Submission option for your e-mail account. Once setup and working - it should never need touching again. In this case, outbound e-mail is sent to our relay server relay.vweb.co.za. For this to work, you provide your username and password details to authenticate yourself. This mail submission server only listens on port 587.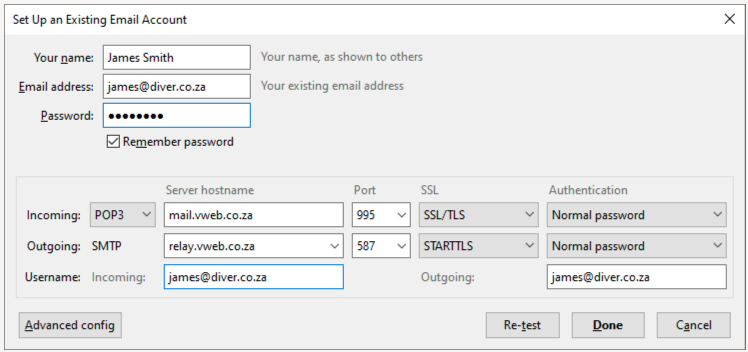 You will find these under Advanced or Extra settings.
Typical settings are: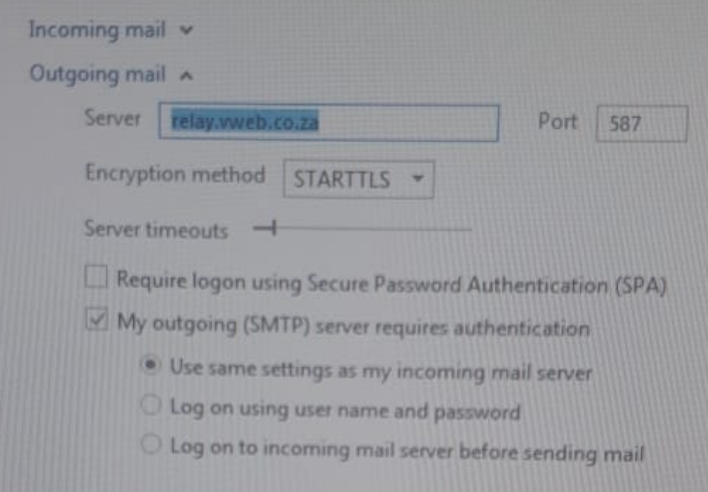 Outgoing mail server (SMTP): relay.vweb.co.za
You may tick the encrypted SSL connection (make sure you are using relay.vweb.co.za)
Tick Outgoing SMTP server requires Authentication (your username/passwd combo)

Tick Use same user settings as for fetching e-mail

Change Outgoing SMTP server on port 587 (and not 25)
Select Encrypted Connection type is TLS (choosing from None, SSL, TLS and Auto). This is technically called STARTTLS and if you see that as an option, choose that.
On VWEB.co.za, you must also set the SMTP Authentication (SA) flag to 'yes', so that the relay server accepts your e-mail. This is done on the VWEB site where your e-mail details are stored. You can login to VWEB.co.za using your e-mail address and password. Here are some screen shots to help guide you.
Security considerations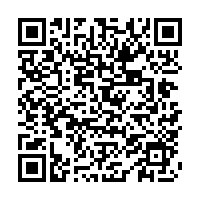 By using the Sumbission settings (relay.vweb.co.za) and using SSL/TLS for Fetching e-mail, all e-mail traffic between yourself and Posix will always be encrypted and your username/e-mail address and password hidden from the world. In addition, Posix also uses a technology called DANE so that emails between our server and other servers around the world always uses encryption when offered - again - keeping your e-mail as private as possible. That is made possible because Posix also signs its domains with DNSSEC Domain Name Security, which guarantees that the DNS information we publish (IP Addresses, etc) is what you as a customer will see. You can also switch DNSSEC on for your own domain (if applicable). The only provision is that many other Registrars do not support DNSSEC Management - so you may have to switch it off first if you ever plan to move your domain to a different Registrar.

You can scan the QR-Code on the right to add my contact details into your phone's contact list. Just activate and point your mobile phones camera at the QR-Code!

For further information and assistance, you are welcome to WhatsApp or call me on 082 601 0496 - preferably on-line chatting on WhatsApp - where you can then also send pictures of your e-mail configuration when things don't work.

Disclaimer: I know what I am trying to say but I may not be explaining it in the way you (the customer) understands. If this is the case - please talk to me and maybe I can improve the text for others as well.

Mark Elkins - mje@posix.co.za